We always tried to keep the spirit of Christmas, but the stress somehow got in the way.  Last year was the start of a very new trend.
It all started on the type of day, many weeks before Christmas morning, where you just can't get rolling.  By the time we were ready for breakfast, it was already past the time where most places stopped serving and we didn't feel like cereal.  Surely, IHOP would let us order corn pancakes and eggs all day long.  There is no IHOP in our town, so we took the ride down a seldom travelled road to one over half an hour away.  Well, at least our intent was to go there.
We went through town and passed the mini horse farm, the greenhouse that was damaged in a tornado but they had never seemed motivated to rebuild and countless little homes with statues out front that were a bit ungainly for the size of their estate.     Everyone with more than an acre thought they owned the O.K. Corral.
My then-husband stopped short when the car in front of us swerved.    Sitting at the side of the road was a beautiful, tri-color dog.   Of course we had to stop.
She just sat there, looking hopeful yet confused, not really quite sure what she was waiting for.  There were no cars driving slow looking for her, there were no houses nearby.  Where had she come from?  The lady at the farm across the street said she wasn't hers.   We waited a little while.   Another car pulled up and loaned us a collar he had happened to have.  Then more waiting with the three of us looking at eachother, knowing that the answer was obvious:  I guess we weren't going to IHOP.
Of course, the thought briefly crossed our minds wondering exactly where we would keep her in an open concept home with no utility rooms or back hallways in case she didn't get along with our dogs, but that didn't seem important at the moment .  She happily hopped into the back seat.  We drove her to our vets in hopes that she was microchipped.  Strike two.   Relegated to the fact that she was definitely coming home with us, I lassoed a leash around her neck and walked her into the store to buy a collar.
When we arrived home, I walked her around the perimeter of the house when something seemed to have fell from the sky and her nose went curiosuly to it, but not daring to grab it.   I held her collar and kneeled down and at my feet was a very young squirrel that had fallen from a tree and was dragging his/her leg.   We always have thought that somehow animals who are in trouble always find us, but now they were falling out of the sky!   (The story of the flying squirrel I will save for a later date).
I had found the worried owners of all the other dogs we found, so placed a "found" ad the next day and scanned the "lost ads" from three counties everyday for weeks.   I faxed in to or called all the vet office in a 20 mile radius just in case someone was looking for her and called the shelters as well.   The weeks went on and it was pretty clear to us that she had been dumped or no one was otherwise looking for her.   She was a young girl of 9-10 months old and it is very common for people to dump dogs who "get too big" at farms thinking "the farmer will take care of them."   We started calling her "Good Girl."  She was the second Good Girl that came into our lives that year.
I contacted people involved in rescue who were either friends or whose rescues we donated to or volunteered for and our request for help was all the same.    Nobody wants big dogs, even a pretty one.  No room at the inn, not even a wait list.  When we had first started our search, everyone unanimously told us to "take her to animal control" even though they always preached what a horrible place it was and never take a dog there.     I could see how people with less knowledge of how things work or fewer options than we had would have taken their advice and joined the ranks of "the terrible people."  There was just no way we were going to.  She was found on the county line intersecting three counties with the animal shelters being on the far sides of each county.   So, if someone was sincerely looking for her, they may never pick the right one.  And if you are a large, mixed breed dog, three day stray hold runs out very quickly, particularly during the holidays.
Frustrated, I posted ads on the internet, putting my feelers out there for a new home.  Everyone who called seemed to want a companion dog for their "outdoor dog."  That was just no life for her.    And then the email came from a man who had told me that he stumbled across my posting.   They lived a little ways out but not all that far, and the situation would involve her having a teenage boy of her very own.   The man had a sister, a brother-in-law and a nephew that had been waiting for the right dog to love after their faithful companion had died of old age.  After further investigation, I knew that this family had to be the "one."
We arranged to meet on Christmas eve.   It wasn't set out that way, but it was the way it ended up.   The family had said that "its not up to us, its up to HER if she wants to live with us."    To summarize how the meeting went, she took to the boy instantly and dropped us like a cold potato.    I tossed a toy, but she kept bringing it back to him instead.   We stayed for a few hours, talking like old friends.   There was just no question that she seemed to have always been part of their family.    When my we went to leave, I was a little worried, thinking that she would try to follow us.  But as the family waved goodbye and went into the house, she followed her boy and barely looked over her shoulder at us.
Sometimes it seems like a dog has always been a part of someone's family, but it takes someone else to find them.   That was the best Christmas ever for my husband and I.    No gifts could have possibly replaced seeing a family finding its missing piece.   Most of the time it works the other way around…one doesn't rescue a dog, a dog rescues you.
By the way, they named her GiGi – the "pronunciation" of G.G. = Good Girl.  That describes her very well.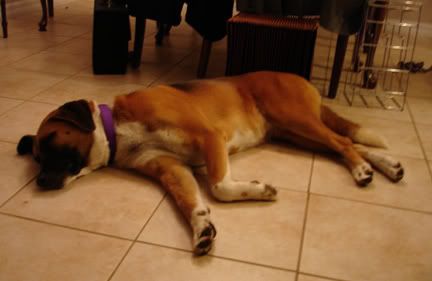 You can follow any responses to this entry through the RSS 2.0 feed. You can leave a response, or trackback from your own site.