Saving Shelter Pets is currently in #47th place in the Facebook Giving Challenge. They have gained some momentum in the past few days, but would really like to finish "in the money." All it takes is a $10.00 or more donation through their "cause" page.
http://apps.facebook.com/causes/view_cause/57747?recruiter_id=12425970&h=mfrdb
They are going to use the donations that are currently coming in to save these kids: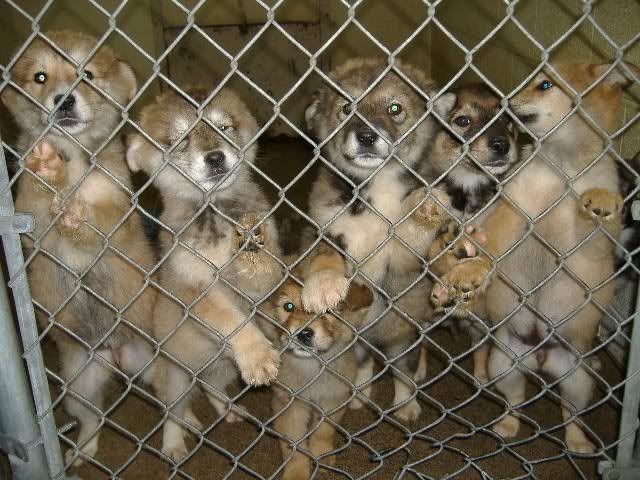 There are 28 puppies currently signed up for the Puppy Promises program. SSP needs to raise $30.00 for every enrolled puppy. Through the program, an individual coming into the pound to dump a litter of puppies is approached and given another option. If they can hang onto the puppies for just a little longer and quarantine them at home, they will receive vaccinations. Then, the puppies will be placed into qualified rescues where they have a chance at a new home. On top of it, the mother dog, who remains with her family if at all possible, will be spayed by SSP to insure that it is her last litter.
You may think. "It isn't fair – people coming to the pound should be able to find a puppy to adopt." Firstly, there are many puppies still at the pounds that are served because not everyone agrees to participate in the program. Secondly, the pound is a terrible place to be for any dog, but especially for dogs under 6 month old. The risk of contracting parvo is extremely high for a little one without resistance. Many puppies do not make it out. And also, because often off the beaten path county Animal Controls are so crowded, puppies are not immune to having their "time up."
Thanks to Saving Shelter Pets, Inc., these puppies get a healthy start in life, and at the same time, the mother will never deliver another unwanted litter, destined to an unknown fate.
You can follow any responses to this entry through the RSS 2.0 feed. You can leave a response, or trackback from your own site.