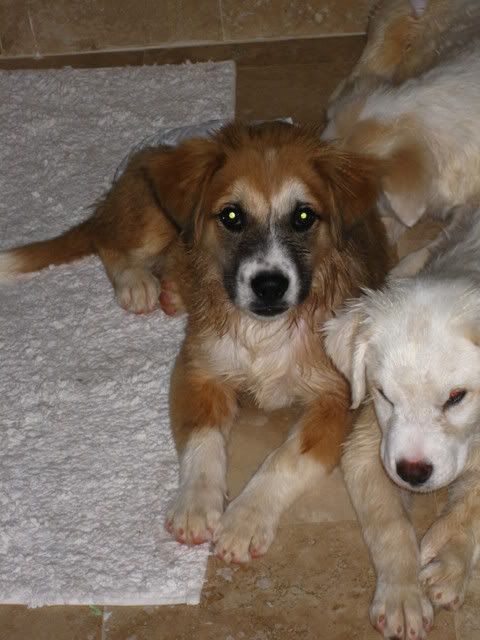 It is "that time" again.  It is almost time for another life saving rescue transport by Saving Shelter Pets.  There are thirteen hopeful puppies from three litters who would like to enroll in the Puppy Promises program at the last minute.
What does the program entail?  Puppies are intercepted from entering the shelter, many who have literally been intercepted as an owner arrives to dump them. They are given a better alternative.  If they can take the puppy home for two more weeks, he/she gets vaccinated today. Then, in two weeks, quarantined out of the shelter, if healthy, they get transporter to rescue.  In the meantime, Mom dog, and all of the OTHER dogs and cats in the household are spayed by Saving Shelter Pets. There were so many cases where multiple litters would come from the same house, and proactively, SSP is stepping up to meet the challenge and end the cycle.
This time, things are a little bittersweet.  Even though these puppies, if adequate money is raised, will go on to a good life, the ones that are lost are remembered.  An entire litter has been lost.  The owners signed their pets up for the program, and then their landlord ordered the dogs out.  Without notifying SSP, the family took the puppies to the shelter.
It costs $75.00 pet puppy to administer shots, transport to rescue, and to spay "mom" and other household pets.  It is such a bargain to save a puppy's life as well as towards insuring mom will have a permanent home.  Her family will have an easier time caring for and keeping her as a spayed dog, as she won't be susceptible to uterine cancer nor will have the urge to wander.  Of course, the other family pets will be too.
Amount needed: 13 x $75 = $975
Amount raised: $220
STILL NEEDED $775
DEADLINE: midnight Tuesday (11/11)
For more adorable puppies, CLICK HERE
You can follow any responses to this entry through the RSS 2.0 feed. Both comments and pings are currently closed.