Tomorrow is my cousin's graduation party. It is late in the year because of family trips, family illnesses, and it just being a busy summer. It works out pretty well that way, because she is going to use the money and gift certificates she gets on things for school rather than blowing it on summer fun. I remember my party being a few weeks after I graduated, and I felt my fingers itch every time I looked at the book store gift certificates and the cash.  On the other hand, to her, the reality of being a poor college student is nigh.  Yes, you need to use archaic language to express utter despair.
The one thing we usually do for summer gatherings is fire up the grill. My uncle was looking at a Lynx Grill for the amount of burgers and chicken that are short ordered and delivered to the buffet line during the year. Every one of us has purchased a cheap grill. One was crushed when the eye of the garage door opener did not see it. That red laser light that "looks" a few inches above the floor to stop the door did not see the tripod, Star Wars droid like charcoal grill. When we heard the crunch, it was too late. It was banged back together but was too lopsided to use.
Another grill in the family was a particular pretty penny to buy.  It looked very high end, but the stainless steel panels were put on quite cheaply.  The hinges broke off when my cousin hung on the doors. When all said and done, thousands are probably spent by the family just buying another grill due to one mishap or another.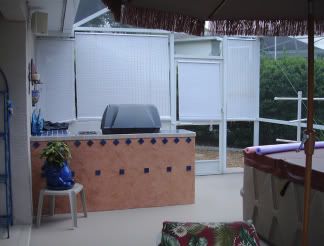 One thing being considered for a renovation is the Lynx Grill that is intended as a built in. I have seen brick structures where an outdoor kitchen is created in a yard or a pool enclosure. It keeps it more protected from the elements, but is also great in a storm. Your electric stove won't work, your gas stove probably will, but who wants to cook in the dark?  Life can go on as normal.  If you are marking time and can't live without the television, you can always use the time to learn to make venison and turkey jerky for your dog, right?   At left, is one such set up that a family member tried for awhile.  However, the grill is not the type designed for such purposes, and when it conked out, nothing else seemed to fit.
There are quite a few Lynx Grills that are made specifically for that purpose.  I found not only a traditional lift top, but side burners as well.  You could configure something that looks more like a grill with a rotisserie, or closer to a stove top appearance. They are also high end, and are what the professionals use when it comes to their tailgate parties, BBQ challenge shows, and more. It will kind of make you feel like you are on one of those cooking competition shows.
Something else also occurred to me.  In many ways, grilling is very "green," and also offers more opportunities for family bonding than one person hidden in the kitchen.  It is a much better use of fuel than an indoor stove.  Sure, you can multitask and have something on the burner and something in the oven.  To cook a whole meal, however, you need to delay dishes or also fire up the toaster oven, and encourage guests to cook ahead.  With a high end grill, you can do everything simultaneously.  The meat and the veggies have enough elbow room to not cross contaminate.
Also, when the cooking is over, you can still cook marshmallows as it cools.  It won't be the same as using charcoal.  There is nothing like burning a marshmallow, ending up in the ER with several degrees of burns, and catching your eyebrows on fire. Then, of course, there are hours spent trying to get it out of the dog's long haired ears when you drop it from your stinging hand. With propane or natural gas, you might miss out on all that nostalgia, but you will get used to it.  I promise.
You can follow any responses to this entry through the RSS 2.0 feed. You can leave a response, or trackback from your own site.